Logistics
Venue
The conference will be held at the University of Manchester, in the new Engineering building (building number 24 on the campus map). The venue is close to Manchester city centre, just off the Oxford Road corridor, next to the Manchester Aquatics Centre. The conference room is GA 056 on the ground floor of the building, near the entrance (the photo below shows the entrance to the building; see here for a zoomed-out picture).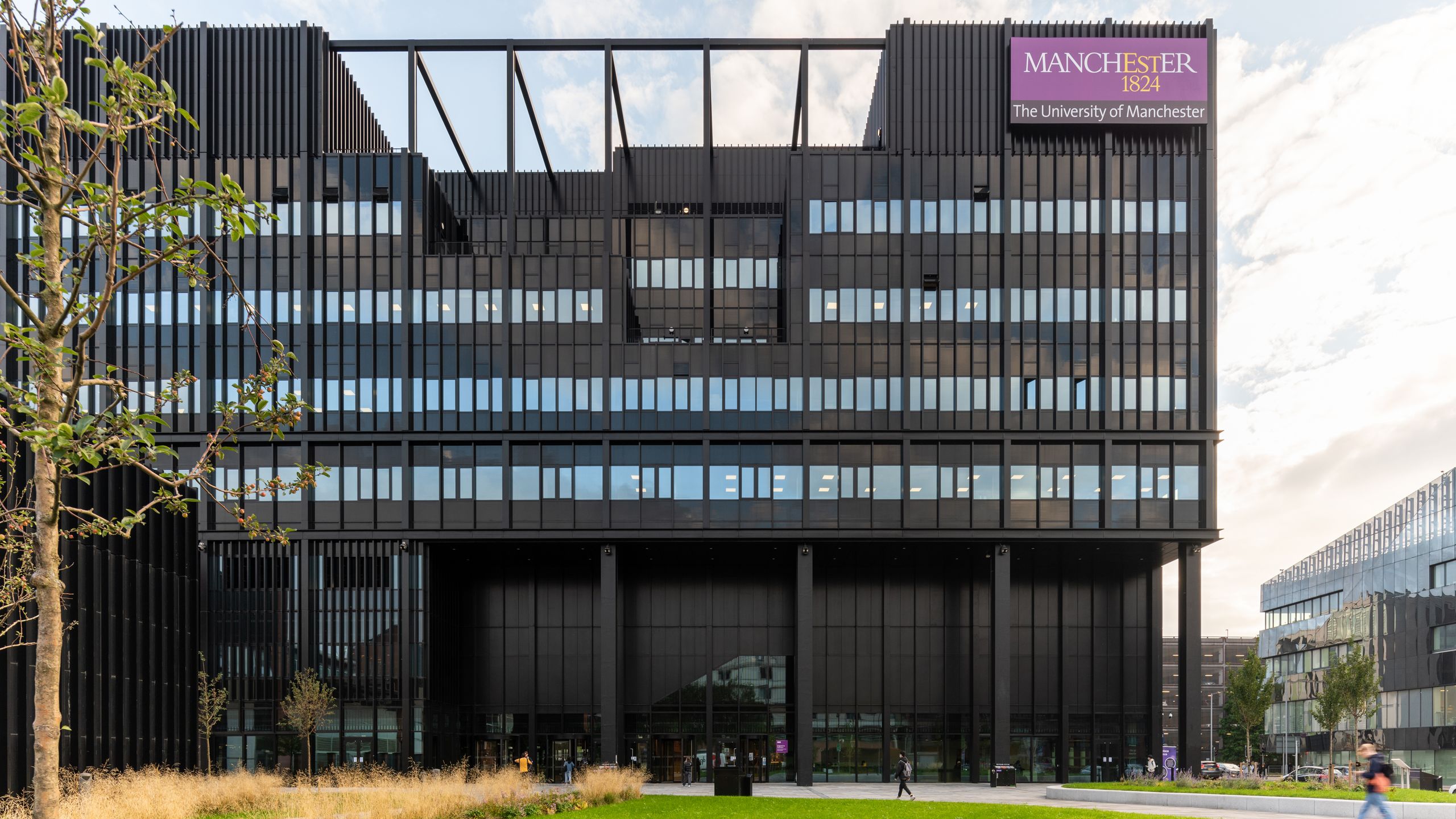 Travel
Train: The closest train stations are the Piccadilly and The Oxford Road (15 min walking distance each).
Plane: If you are arriving by plane, the closest airport is Manchester International Airport. The most efficient way is to take a tram or train to the city centre (The Piccadilly), and then walk to your hotel or the venue. You can also take a taxi, of course.
Car: There are several car parks nearby – the information is available here. Please note that the closest car park – Booth Street East – is currently closed.
Accommodation
Marketing Manchester is the official accommodation provider for the conference. Please use this link to book your accommodation with special rates from partner hotels within the walking distance from the conference venue, which include a selection of 3-star and 4-star hotels. Please note: while Manchester has a number of hotels in the city centre, June is a busy time of the year, so booking early is highly recommended. Marketing Manchester will keep a number of rooms exclusively for the conference through the link above. You can try the following near-by hotels:

Registration
The registration site is open here.
From June 1st, the registration fee is £125 for students, and £250 for non-students, and includes the full two days of the conference on June 15th and 16th (with lunches and the conference dinner on 15th), and pre-conference events on June 14th. The early bird registration is now closed (the early-bird fee was £100 for students and £200 for non-students before 31st May 2023).
Organisation
Conference chair
Goran Nenadic, University of Manchester
Programme co-chairs
Honghan Wu, University College London
Richard Dobson, King's College London
PhD and ECR forum
Denis Newman-Griffis, University of Sheffield
Riza Batista-Navarro, University of Manchester
Post-conference publication chair
Anoop Shah, University College London and UCLH
Industrial forum and demos
Dan Schofield, NHS England
Sponsorships
Beatrice Alex, University of Edinburgh
Tutorials
Lifeng Han, University of Manchester
Local organising committee
Warren Del-Pinto, University of Manchester
Lifeng Han, University of Manchester
Judith Andrew, University of Manchester
Erika Buzink-Wallis, University of Manchester
Program Committee
Beatrice Alex, University of Edinburgh
Judith Jeyafreeda Andrew, University of Manchester
Riza Batista-Navarro, University of Manchester
Arlene Casey, University of Edinburgh
Warren Del-Pinto, University of Manchester
Matus Falis, University of Edinburgh
Elizabeth Ford, Brighton and Sussex Medical School
Lifeng Han, University of Manchester
Caren Han, University of Sydney
George Karystianis, University of New South Wales
Arron Lacey, Swansea University
Ulf Leser, Humboldt-Universität zu Berlin
Ruizhe Li, University of Aberdeen
Nikola Milosevic, Bayer
Danielle Mowery, University of Pennsylvania
Josiah Poon, University of Sydney
Paul Rayson, Lancaster University
Viktor Schlegel, ASUS Intelligent Cloud Services (AICS)
Stefan Schulz, Medical University of Graz
Anoop Shah, UCL Institute of Health Informatics
Irena Spasic, Cardiff University
Mark Stevenson, University of Sheffield
Rob Stewart, King's College London
Hanna Suominen, Australian National University
Aline Villavicencio, University of Sheffield
Honghan Wu, UCL and University of Edinburgh